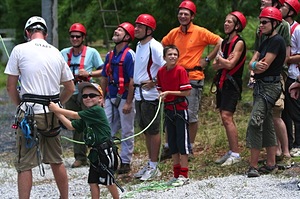 Our challenge course is an experiential adventure program which is intended to invite groups and individuals to participate in a series of tailor made activities which involve the taking of perceived mental, physical and emotional risks. The course is a series of ropes cables and timber platforms designed to provide an individually challenging environment.
Safety and cooperation and the development of the individual via achievement are all essential elements and these qualities are emphasized by trained facilitators who guide participants through the course.
Our challenge-by-choice approach enables each individual to experience success in the context of their own aspirations. We have found that on the challenge course, the greatest successes are rarely measured in terms of the height climbed or the distance leapt. In a team building adventure everyone has a role to play.
Our course consists of two locations, The Aerial elements which are constructed on a network of pre-stressed utility poles and are up to 10m above the ground and our low element course which is only a few inches.
Design
Both high and low courses are constructioned to guidelines laid down by the ACCT. The ACCT is a trade organization, serving Challenge Course Professionals all over the world. The purpose of the association is to promote the use of Challenge Courses and to set minimum standards for Challenge Course installation, operation and inspection. Originally founded by vendors, ACCT members are now predominantly Challenge Course managers and facilitators, ACCT has been setting challenge course standards since 1993, and is now accredited by the American National Standards Institute (ANSI) as a standards developer. www.acct.org
Protection and Equipment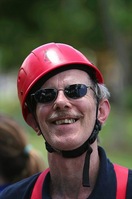 All of our high elements are protected by a dynamic belay system controlled by supervising staff from ground level. All participants wear a full body harness and helmet.
All belay and lifeline ropes used on the challenge courses are dynamic and a full equipment and usage log is kept for all gear and regualr inspections carried out.
Manufacturers used are as follows:
Full body gear and helmets + hardware: Camp
Sit harnesses and belay hardware: Mad Rock
Pulleys + additional hardware: Petzl
Rope and cordage: Beal
All equipment in accordance with European Standards: EN 992, EN 12277, EN12492 & EN12275