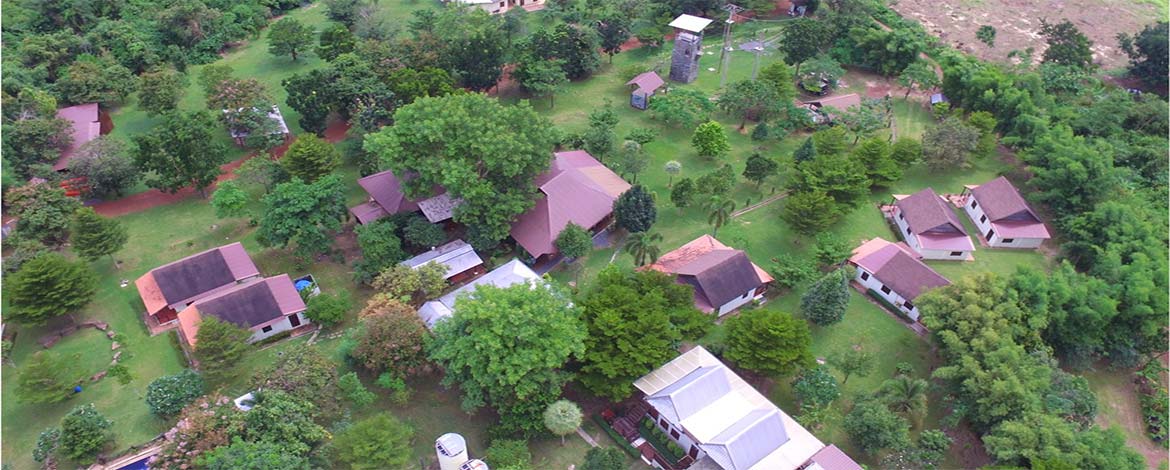 Wild Planet Co. Ltd. have over the last 15 years built a reputation for offering safe, fun and exciting adventure programs for Schools, colleges and corporate groups all over Thailand. Our intention with the Wild Lodge is to continue that reputation creating a location that offers first class programs, first class instruction and first class equipment within a relaxing and pleasant and ecologically sustainable environment. In addition to offering our adventure programs we have a comprehensive list of outdoor training courses that are run both in house and by specialist guest instructors. Some courses are for the individual seeking to improve or learn new outdoor skills, others are aimed at outdoor professionals, teachers and coaches wishing to further their professional development.
The Wild Lodge was originally intended to be a simple exercise in building a single lodge in a practical and reasonably sustainable manner. After looking for a suitable location for over two years the land was found and the task of reclaiming it from the bamboo plantation, that it had been farmed as for the previous 35 years, begun. A large number of bamboo plants were removed and replaced with transplanted mature trees and the track to the waterfall through the centre of the site re-located to run around the perimeter.
Design of the lodge was decided to be a fusion of traditional Thai hardwood construction and modern galvanized roofing materials. All the tropical hardwood used for the construction was sourced from reclaimed timber yards and an old southern style Thai house that has been demolished to make way for a tower block. Doors and windows for the lodge were either refurbished from original items or commissioned from local craftsmen using reclaimed timber. Actual construction was carried out using a combination of labourers from the immediate area and a team of Thai carpenters from Ayutthaya (the capital city of wooden house construction).
Due to the location of the site mains water and waste water disposal were not available so a team were bought in and a bore drilled within the site. this provides a plentiful year round water supply drawn from a large aquifer at a bore depth of 45 meters. Christmas 2007 saw the Wild Lodge receive its first guests, a group of family and friends. It became immediately apparent during that stay that the location was an ideal as a base for Thailand's first outdoor adventure lodge. Plans were immediately made to expand the lodge and we started construction using the philosophy behind the first lodge. The original lodge has been expanded with 2 traditional Thai style rooms, nine individual guest lodges , a kitchen, a restaurant, a campground facility , a high / low ropes course and a salt water swimming pool.
All timber used has been reclaimed or sustainable (Eucalyptus poles) and the reclaim theme has been carried across to furnishing for the individual lodges.
Waste water is treated on site using modern septic and grey water tanks and where possible used on site for irrigation via sub surface pipes.
As the Wild Lodge construction has progressed it has become clear that we need to have a plan with regards to our impact on the local environment and how we can minimize this. We have considered implications of this and committed this to our environmental statement and come up with a environmental improvement plan which we intend to implement on a continuing basis.
We would like to think that we operate the Wild lodge in a way that promotes the active stewardship of our natural resources and surroundings and encourages current and future generations to protect it, but at the same time get out into nature and enjoy it. We also realize that this is a challenge that involves individual commitment and may not be embraced by all, but if we can have all of our guests leave us with a better appreciation of the outdoors then we are some way forwards to making a difference.