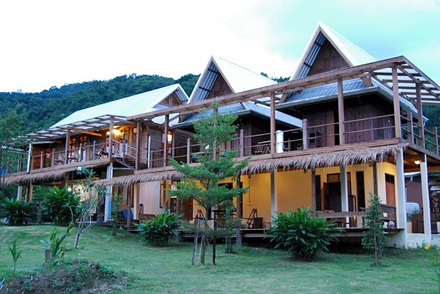 The main lodge building ecompasses two traditional Thai stilted houses. All wood has been reclaimed and some of the teak panels in the Siam house are thought to be at least 100 years old.
The wood came from various panels of six different single room teak dwellings & was refurbished on site. (other parts from these houses are used in the Hornbill Sala & Sunset Bar)
The building comprises of management rooms, reception office, large private bar area and the Siam rooms which are two antique teak paneled guest rooms with a large shared balcony overlooking Khao Ito. (Ito Mountain)
Each of these rooms has its own bathroom on the lower floor which can be accessed via the private garden below.